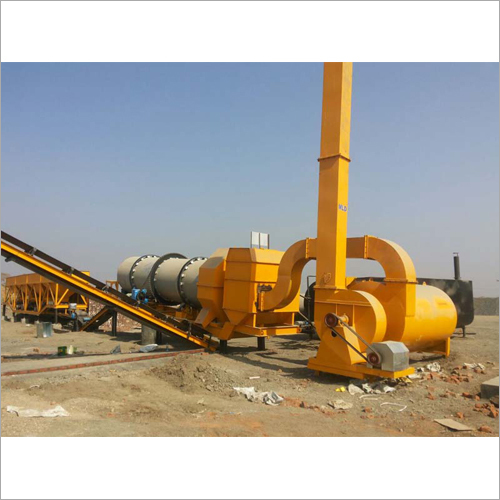 Product Description
TECHNICAL SPECIFICATIONS :
| | |
| --- | --- |
| MODEL | CAPACITY |
| DM-20 | 15 TO 20 TPH |
| DM-45 | 30 TO 45 TPH |
| DM-60 | 45 TO 60 TPH |
| DM-90 | 60 TO 90 TPH |
| DM-120 | 90 TO 120 TPH |
| DM-150 | 120 TO 150 TPH |
FEATURES :
Fully computerized plants up to150 TPH capacity.
Mobile and stationary.
Wet type and bag house filter systems.
Hot mix storage silos.
Global presence with prompt product support.
ADVANTAGES :
All components used are of bought from branded companies and top notch quality.
Moving and electrical parts are provided with safety covers.
Ease of lubrication and dismantling has been built into the design efficient maintenance and repair.
Fabricated parts are thoroughly cleaned and treated before painting.
Manufacturing is done with advanced, internationally recognized technology.
DRYER DRUM :
The dryer is accurately fabricated to ensure proper heating of aggregates with minimum heat loss. It is supported on steel rollers through steel tyres with idlers and guide rollers and is provided with segmented driving sprocket.
Cylindrical dryer drum supported on four trunnion rollers by two steel tyers is driven by a chain & worm gear box & an AC motor. It receives weighed cold aggregates from slinger conveyor at one end & discharges hot ashphalt mix from other end to a load conveyor.
A high pressure jet burner fitted at feeding end fires red hot flame in to the drum to heat and dry wet aggregate. Specially designed casecading and notched flights in heating zone allows maximum heat transfer from flame and hot gases to aggregates. J- shaped flights in mixing zone thoroughly mixes & perfectly coats bitumen on aggregate and filler.
Spray cone fitted on bitumen and filler pipeline inside the drum mixes powder filler with liquid bitumen first to make slurry then, further mixes with aggregates thus prevents blow out of fine filler in to exhaust.
Two numbers steel cast thrust wheels prevent drum from slowly moving downward while running under load due to its inclined position.
Skewable trunnion rollers also can be adjusted for minimum thrust force on thrust wheels and run drum smoothly with minimum wear.
Two dam plates in side drum allows longer heating & mixing time to aggregates thus, help to produce super quality of mix.
Sweep rotor discharges hot mix material on to load out conveyor where a thermocouple is mounted on discharge chute to measure mix material temperature.
A multicone cyclone box and exhaust fan with motor & chimney on same chassis.
FOUR BEEN FEEDER :
It is of single chassis construction. At each Bin, a radial gate is provided which can be opened in any position to regulate the aggregate flow. Individual endless belts fitted with variable speed motors discharges material onto the gathering conveyor as per the mix design.
Each of four bins of our cold aggregate feeder is fitted with a radial gate (easily operated by a hand wheel) and an auxiliary belt feeder driven by a geared motor type box series gear box and an AC motor. Gate opening ones set as par aggregate size, then flow of each size aggregate is regulated from control panel by their motor speed control in auto mode according to desired set percentage gradation in mix design.
Side rubber skirt on auxiliary feeders prevents material spillage and closely spaced straight rollers really help to prolong belt life.
A bin vibrator provide on dust bin wall ensures easy down flow of dust when wet due to moisture.
Gathering conveyor driven by an AC motor through box series gear collects all four size aggregates from their respective aux. feeders and transfers the same on to single deck vibrating screen which rejects over sizes.
A scrapper fitted at discharge and bottom of gathering conveyor keeps the belt neat and clean when wet dust sticks the belt.
CONTROLS :
A fully automatic control panel with feather touch controls is provided for controlling the quantity and quality of production with operator sitting in air-conditioned comfort.
All systems are completely synchronized with automatic / manual control of burners, load cell, mix temperature, cold feed, mineral, bitumen proportions, etc. Manual control is possible through over-ride system. Adequate safety measures are adopted to avoid overloading, short-circuit, etc.
VIBRATORY SCREEN :
A single-deck vibratory screen is provided to remove oversize aggregate received from the four bin feeder.
MULTICYCLONE EXHAUST :
The dust collection system consists of enclosed multiple cyclones, exhaust fan and chimney.
CONVEYORS :
A slinger conveyor is provided which receives aggregate from the four bin feeder and feeds it to the dryer drum.
Load out conveyor fitted with hydraulically operated hopper is provided at the discharge end of the dryer drum which feeds the hot mix material into tippers.
DRYER BURNER :
A fully automatic, high pressurized, auto jet burner is mounted at one end of the drum.
FLIGHT DESIGN :
Fabricated from steel plates, it feeds the required quantity of mineral to the dryer drum.
ASPHALT ( BITUMEN TANK) :
Tank of 15/20 MT capacity fabricated from steel plates with 50 mm glass wool insulation, manhole, thermocouples is provided. Bitumen is pumped to the dryer drum through hot oil jacketed pipelines. Tanks are fitted with independent on-off type burners.
FUEL TANK :
One Tank of 2500 / 5000 / 10000 Ltrs. capacity is provided with each plant.
Get in touch with us