Innovators and manufacturers of a wide variety of Texturing Brushe, Texturing Machines, Bull Floats, Construction Machinery and many other products..
KIVI - ABOUT US
EXPERIENCE, EXPERTISE, SOLUTIONS
We are a famous international manufacturer of construction equipment, and with over 50 satisfied customers, we are one of the widely demanded company in the industry. With a complete product range, manufactured, serviced and supported all over India, we've got the accurate machine and the right solution for all your jobs.

WHAT WE BELIEVE IN
SUSTAINABILITY
We believe in a reliable future. Along with global construction industry as our ground, we work together with our clients to turn this belief into reality for people everywhere.

INNOVATION
Innovation is at the core of our company. It's our working method and mindset. Due to our 15 years of expertise in construction and innovation, our company is at the forefront of technological development. For us, the advance technology is not just nice to have, it's important to stay competitive & secure long-term profitable growth.

THE POWER OF PEOPLE
Care and respect for customers has always been a main motive of KIVI. This guides us, in how we behave towards our customers, our suppliers, our employees and all the other people we share this planet with. Moreover, the culture of our company is build around trust, open mindset and passion, and we are sure that the more we listen and understand different perspectives, the stronger we become. After all, there is only one thing that can change the world for the better. People.
Our company culture is built around trust, passion and an open mindset, and we're confident that the more we listen to and understand different perspectives, the stronger we become. Because after all, only one thing can change the world for the better. People.

ADDING VALUE TO YOUR BUSINESS
COMPLETE SOLUTIONS
Our company has the right solution for you. So why not let us offer all your needs throughout the whole life cycle of your machine? By listening to your requirements, we can reduce your cost of ownership and increase your revenue.
Known as a KIVI customer means having a complete set of services at your fingertips. We offer you a long-term partnership, protect your revenue and offer a full range of customer solutions using premium quality parts, supplied by passionate people. KIVI is committed to the positive return of your investment.

OUR DEALER NETWORK
SUPPORTED FOR LIFE
KIVI Construction Equipment's dealers are the support of our business and an key bridge between the company and the clients who buy and operate our machines. No matter how big or how small, we are there to provide our customers with advice & support throughout, from the process of choosing the right machine for their requirements to making sure it receives the service & care required for the duration of its working life.
KIVI PRODUCTION FACILITIES
TRULY GLOBAL
OUR COMPANY has production facilities in Ahmedabad and near by it. Our facilities produce a wide range of Asphalt pavers & Dowel Bar, Texture Cure Machines inserters for Concrete industry, Spare parts for wide demand of Construction industry.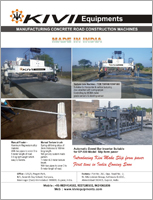 Get in touch with us